How Much Does A Wedding DJ Cost?
Wedding DJ prices can be anywhere between $1000 to $5000. Prices are based on many factors, including the wedding venue, audio and visual gear required, and the DJ's experience, expertise, & demand. In the US, the average wedding DJ cost is around $2,900. Seattle wedding DJ prices can range from $2,500 to $4,995 on their wedding DJ. Since 2015, couples have invested more into their wedding DJ. They recognize the value in having great music and how it influences the overall energy and experience of their event
If you are ready to book a high-level DJ and Emcee, please check out my Homepage. The rest of this blog goes into full detail about wedding DJ average cost in the United State, plus the services they offer. Additionally, we break down what to expect from a professional DJ, when to book, and money-saving tips if you have a conservative wedding DJ budget. If you're in a hurry, you can click to expand the infographic below. It will break down the average cost of wedding DJ, new and veteran. For further questions, read on!
If you would like to publish this infographic to your site, see the bottom of this article for embed code.
---
---
What Services Do Wedding DJs Offer?
• DJ Services
A wedding DJ mixes and blends music genres from the beginning of your wedding ceremony, including guest arrival, all the way to the wedding reception. The DJ will be able to read a crowd's energy and provide a versatile and energetic dance floor.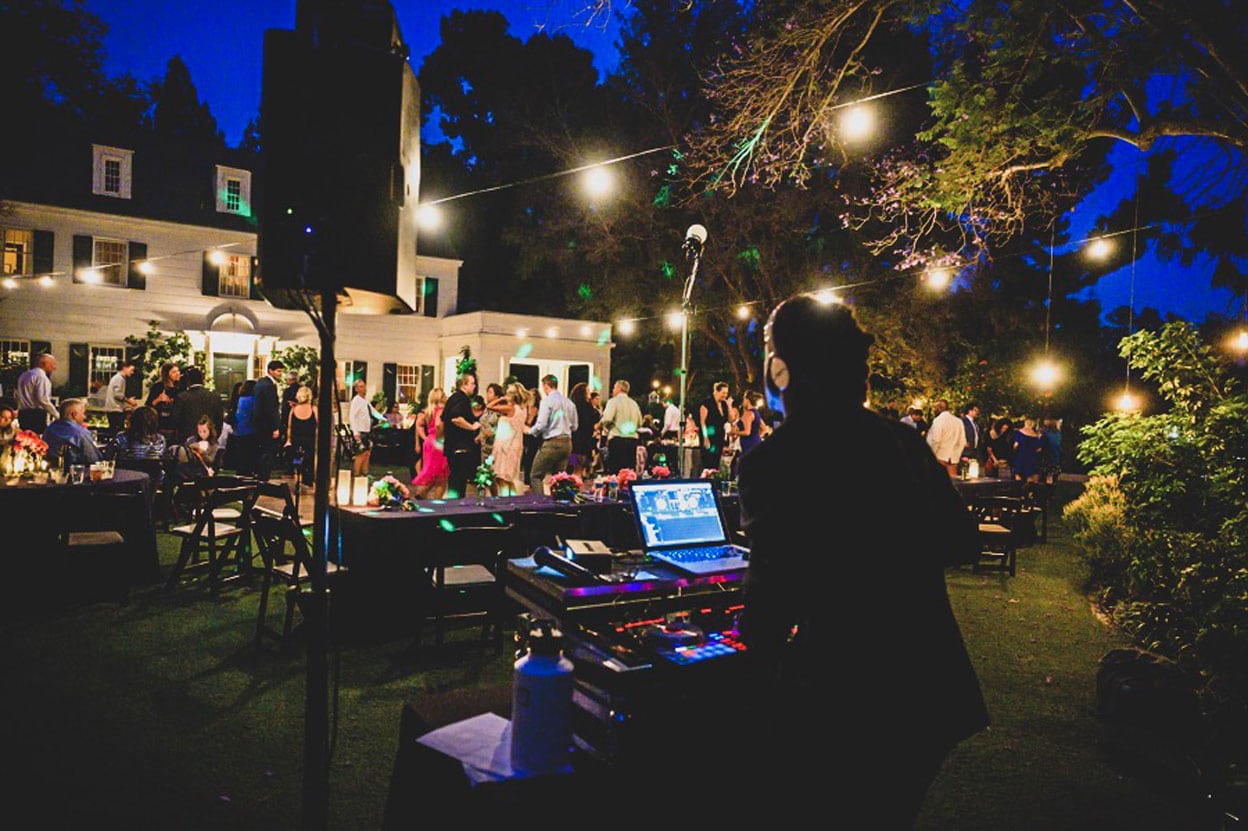 • Emcee Services
Many first-time wedding couples don't know this, but the Wedding DJ is also the Wedding Emcee. The correct term is "Wedding Emcee-DJ." For the sake of simplicity (and coolness), we just say "DJ." Regardless of the name, this type of entertainer has the ability to grab the room's attention and guide everyone through the event with ease. This includes coordinating with other wedding vendors on the wedding day to ensure a seamless timeline before each event. This preparation ensures the optimum execution of events.   All of this is done with charm and charisma if you pick the right DJ. A balance of professionalism and personality is key and will be reflected in the price of the wedding DJ price.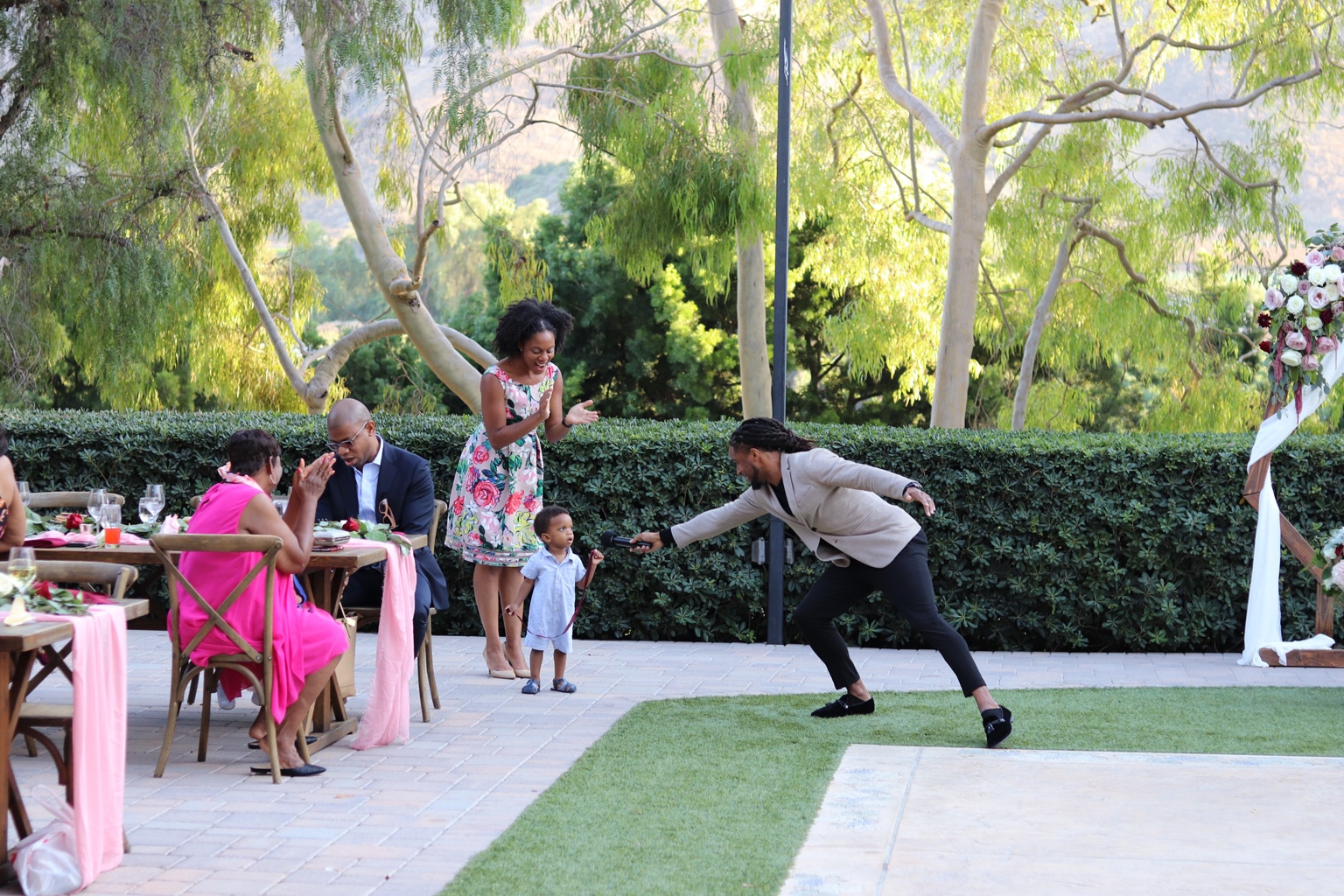 • Audio and Visual Equipment
Professional wedding DJs will provide all of their own sound and lighting equipment. Most starter packages include the following:
• 2 speakers and 1 wireless microphone for the ceremony
• 1 speaker for cocktail hour
• 2 speakers, wireless microphone, DJ turntables for the reception.
The most common requested type of DJ lighting at weddings is uplighting. The second type is the dance floor & special effects lighting.

• Ancillary Entertainment
Wedding packages that DJ companies provide can be mixed and matched to cater to each unique wedding. Additional services include photo booths, video screens, and CO2 cannons, just to name a few. All of these items are great but will add to the overall cost of a wedding DJ. No two weddings are alike!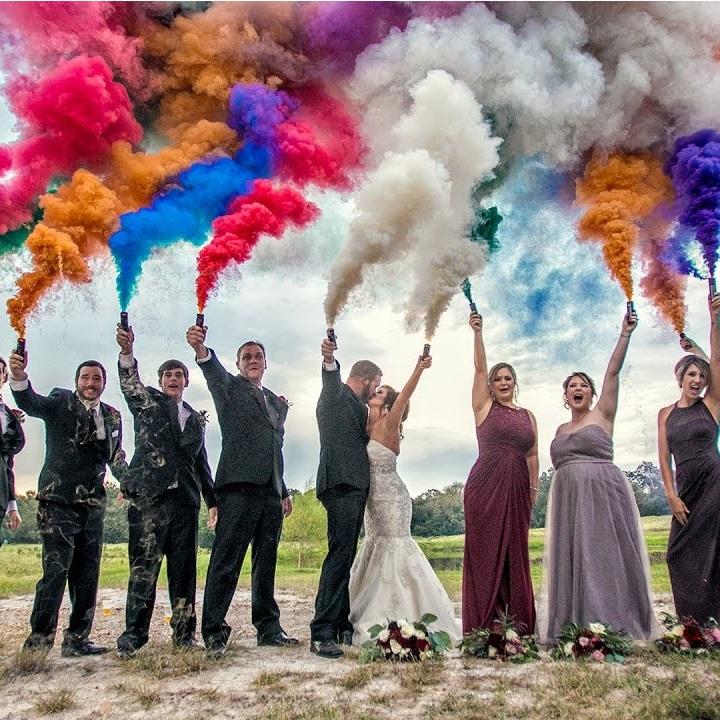 ---
---
What Is Included In The Average Wedding DJ Cost?
While event planning, learning about the average cost of DJ for wedding can knock an unsuspecting couple off their feet. Couples often akin wedding DJs to experiences with club DJs. This "plug and play" misconception they have for their wedding can lead couples to book the wrong type of DJ for what is supposed to be the most romantic and family of affairs.
One has to remember that a wedding DJ is also an emcee. They are also a "production crew" providing audio and visual gear customized to your wedding needs. There is a lot more to the wedding DJ than simply showing up and playing great music.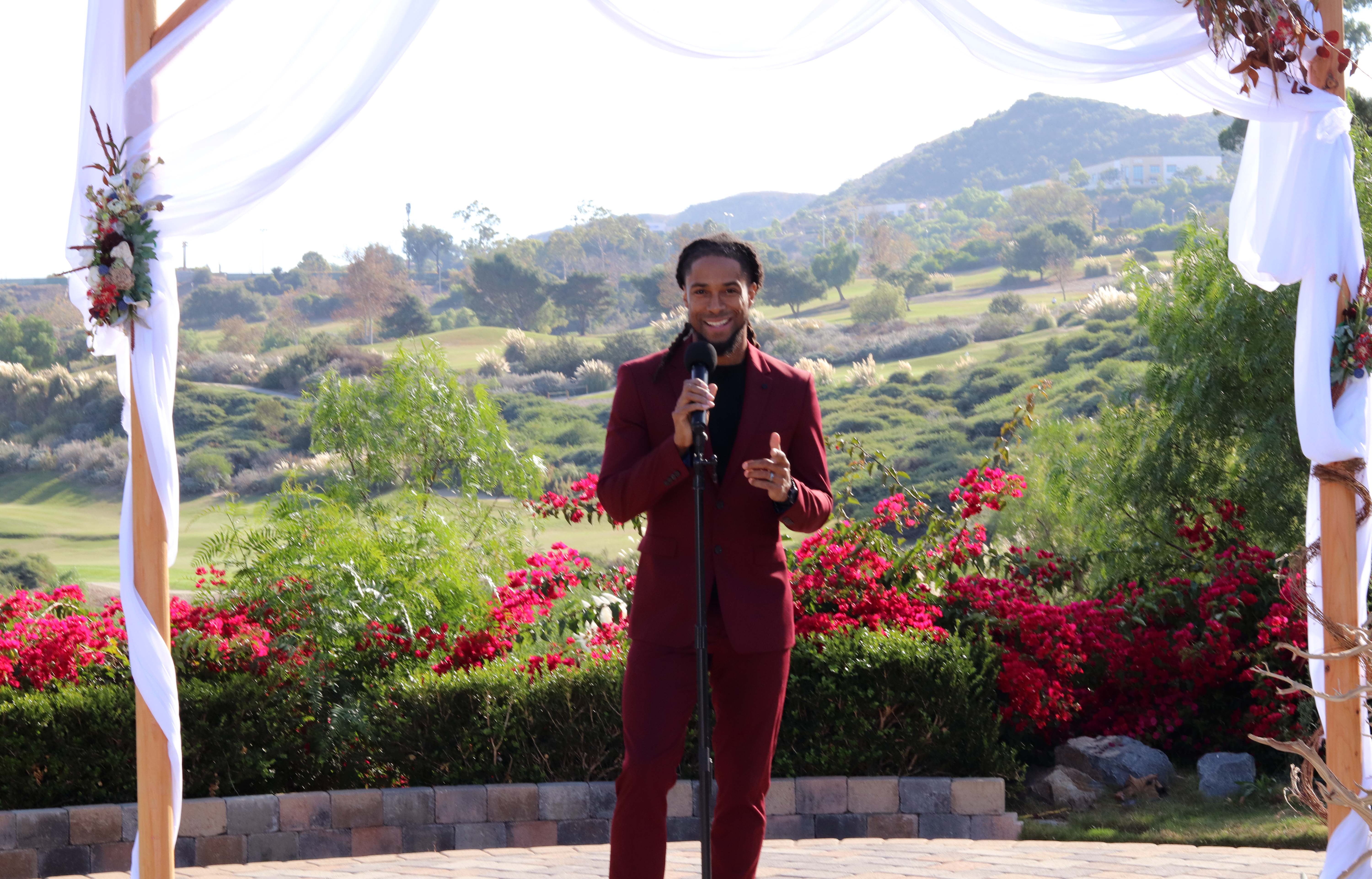 Here is a list of what the average price for wedding DJ prices includes:
• Performance Time
The performance time consists of the total hours performed by the DJ at your wedding. PRO TIP: Many couples book a wedding DJ to play music from their ceremony start time. However, they don't consider the awkward silence there would be if the DJ wasn't playing great music as guests arrive before the ceremony starts time. Book your DJ's hours based on the first song played during guest arrival until the very last song at the reception.
• Preparation Time
Preparation time is the time it takes for your entertainer to prepare for your big day. Before your wedding, your DJ spends several hours making your playlist as well as curating the script for your wedding. On the day of the event, your DJ travels to the venue, sets up, performs, and breaks down their equipment. The joke amongst pro DJs is that they love to party so much because they are "the first to arrive and last to leave the event."
• Operations and Insurance
A portion of a wedding DJ's cost is delegated towards business upkeep. This cost includes maintaining equipment and music, renewing licenses to operate within certain venues and districts, and, most importantly, vendor insurance. Your wedding vendors must be insured. This insurance protects you, the vendor, and the site should property or personal injury occurs due to your vendor's equipment.
Here is a recent example of why couples should book a wedding DJ who maintains business credentials, contracts, and licenses. During the 2020 Coronavirus Pandemic, couples who chose to book unlicensed and uninsured DJs saw their wedding investment vanish. Especially when it came time to discuss refunds and postponements. No one was prepared for the global pandemic that rocked the wedding world. However, those that held their wedding DJ to a higher standard experienced great communication from their vendor, receiving comforting workarounds, and return of payment for services that had not yet been rendered.
---
---
When Should I Book My Wedding DJ?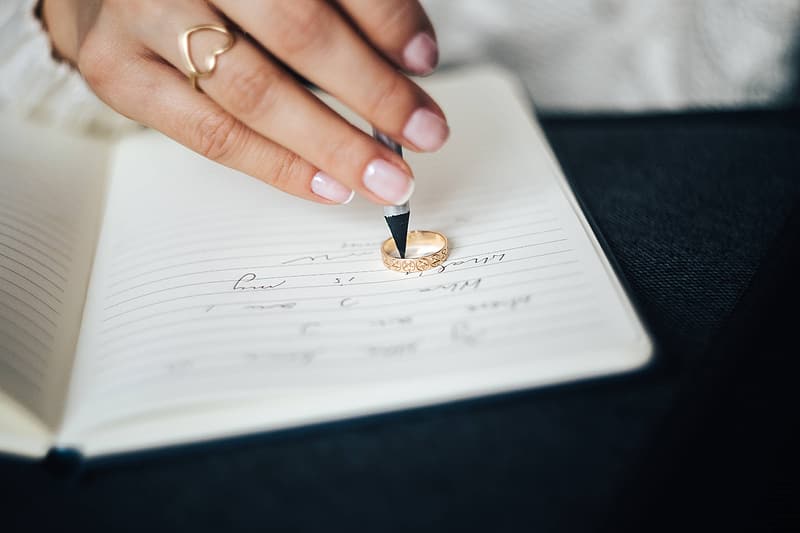 After booking your wedding venue, the next two vendors you'll when planning a wedding are the wedding coordinator and the wedding DJ. If you have a trendy wedding date like 10-10-20 or 4-3-21, you'll want to connect with and lock in your wedding DJ immediately. Trendy wedding dates book the most popular venues and DJs very quickly. Outside those types of dates, the average wedding couple will book a wedding DJ about eight months out. Another joke amongst wedding DJs is that they are "high priority, yet low maintenance." This means, although the DJ and the dance floor are of the most memorable parts of your event, you'll only need to meet with them twice. Once when you first interview them. Again, when you meet to finalize music, the timeline, and the emcee script. Email, phone, and Zoom can resolve any other inquires.
---
---
How Can You Save Money On Wedding Entertainment?
Tight budgets are perfectly normal. In the end, what matters most is the love and the "I do's."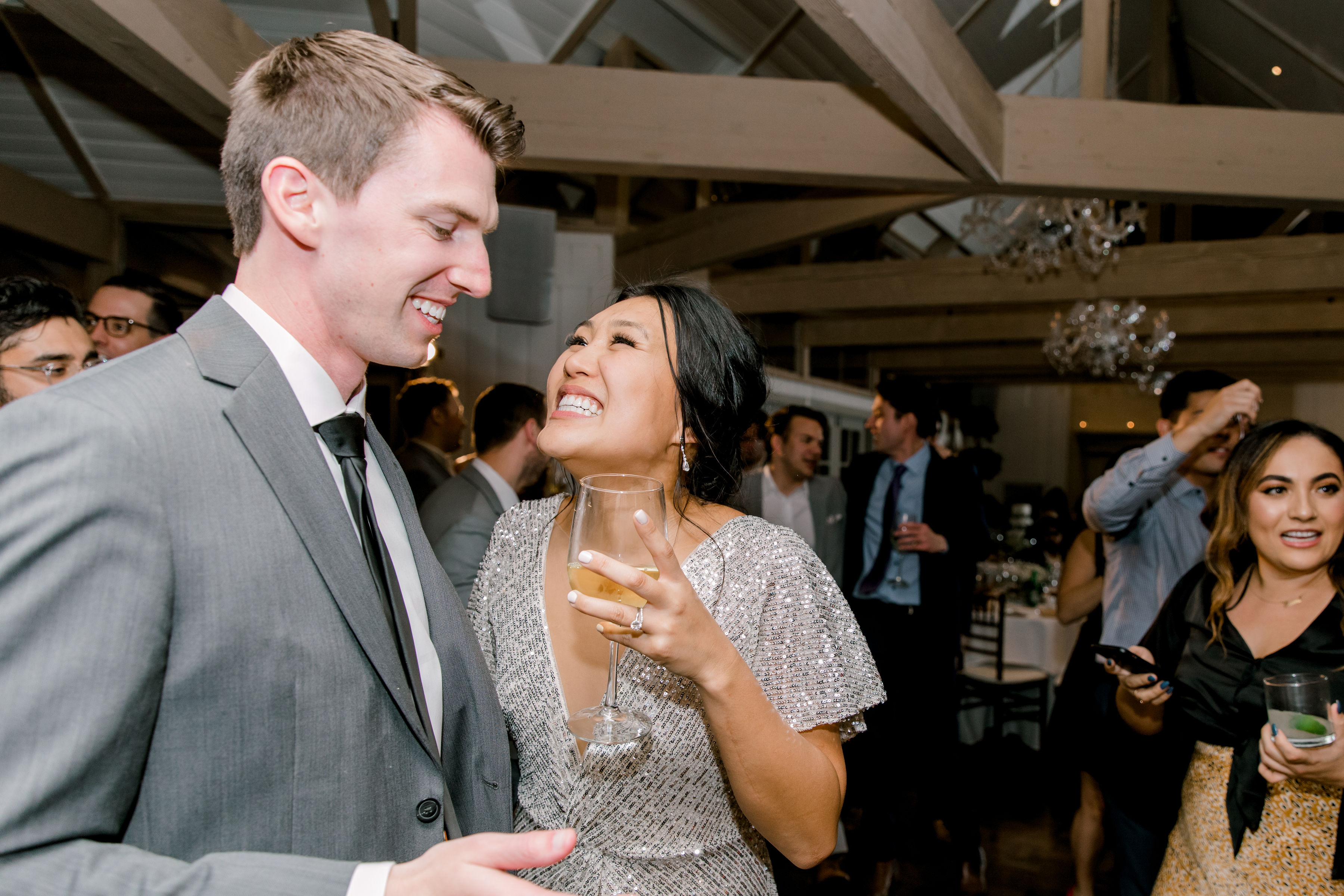 If you are looking for ways to save money on your wedding entertainment, here is a list of wedding budgeting tips:
• Hire A DJ Over A Band
With respect to the great energy that bands bring, how much a DJ does cost will be significantly less than wedding band prices. Due to the gear and crew size, a band can cost at least $3000 more than a DJ, even more in Seattle.
• Pick The Right Wedding Date
Even the more expensive DJs offer discounts for weddings scheduled for the off-season. As you go from November to February, rates can be very feasible due to the low demand for weddings. The same can be said for weddings March-October if the wedding falls on a Friday, Sunday, or even a Thursday.
• Limit Entertainment Hours
The longer the DJ performs, the higher the cost. There are unique ways to shorten the performance time. One example is not using the DJ and their sound gear at the ceremony. This is easy if you have a small guest size and a professional officiant who can command a room. Also, ending your party and entertainment when the bar closes is a money saver and a smooth move if you want to end your party on a high note.
• Do Some Research
Different wedding DJs will work with varying budgets for weddings. Use search inquires like "Best Wedding DJs" and "Party DJs" in your area. Create a generic email template. Make sure your email includes your budget to filter out any company that can't meet your demands. Reach out to the rest, asking for emcee videos, DJ mixes, and see who sparks your interest.
---
---
Should You Tip Your Wedding DJ?
You should tip your wedding DJ if you had a great time.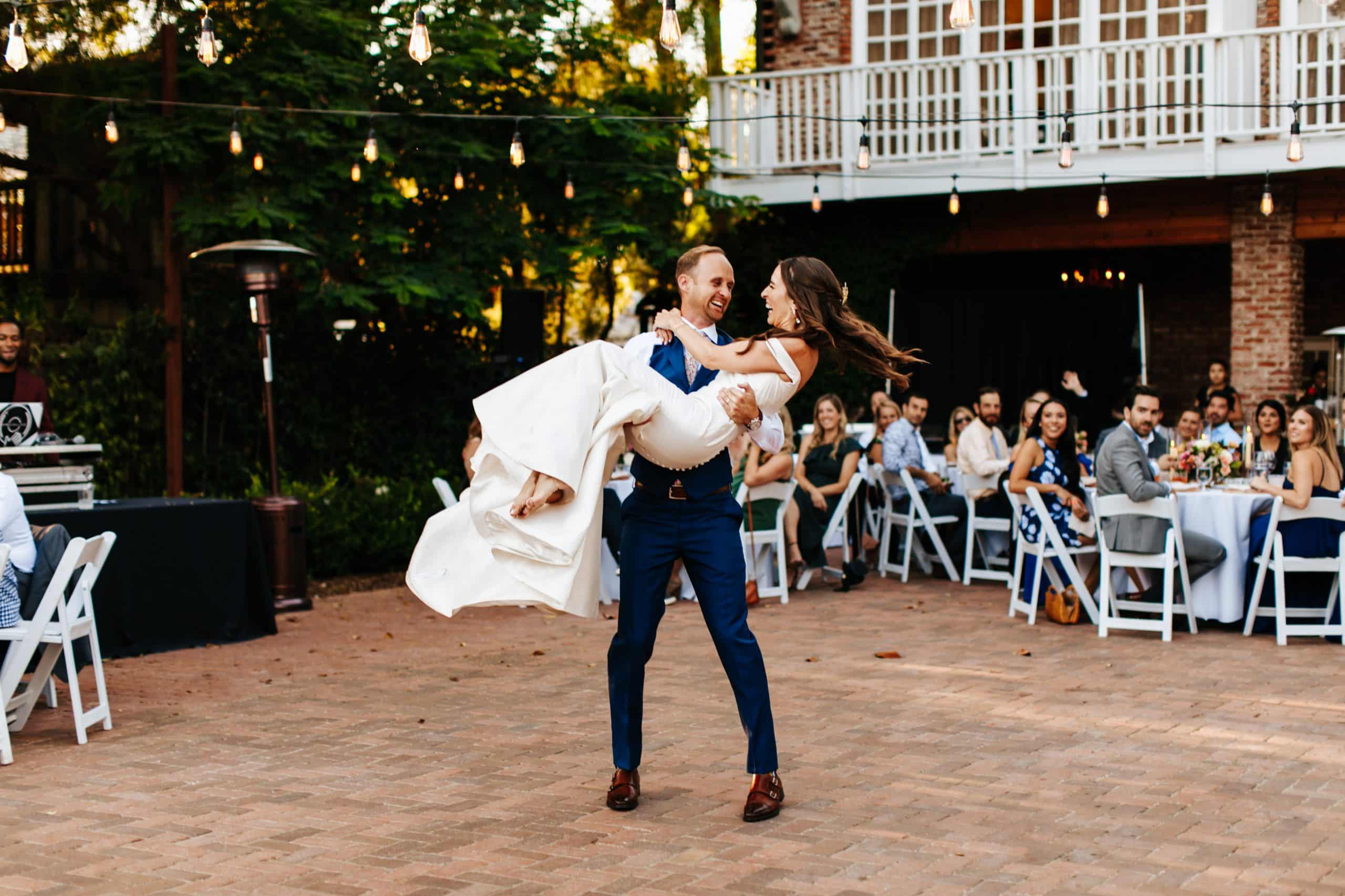 Additionally, here is a list of other examples of why you should tip your wedding DJ:
• You Felt Like A Guest At Your Own Party
The DJ was easy to work with leading up to the event, especially with answering questions promptly. The night of the wedding, you felt comfortable leaving everything in the hands of your coordinator, venue rep, and DJ.
• You Received A Discount Off The Original Wedding DJ Price
How much DJs are listed online may not be what you actually wind up paying. DJs may provide all types of discounts. Discounts can include money off because your wedding coordinator repeatedly refers to them. Other examples include discounts for you because you were that fun guest at a recent wedding where they were spinning!
Tip between 10-15% of the total packaged price. Make sure you and your coordination team factor all vendor tips into your wedding budget.
---
---
We hope this article answers how much is a DJ for a wedding. Your next step is to discuss with your prospective entertainers how they can bring your party to life. Don't be afraid to ask questions about audio and visual equipment, their musical tastes, and in fact auditioning their microphone skills. Don't hold back. Wedding DJs are in the business of crafting great memories. There is no limit to what they can create for you.